TO EVERYONE WHO MADE THE PLAYGROUNDS POSSIBLE!
Stay tuned for an update on all of the individual, corporate and foundation donors that have given to our 2014-2016 fundraising drive for additional swings and play features.
OUR DONORS
As of November 2006, FROG had raised over $190,000 of donations from the community towards the completion of the Greenbelt. The funds have come from individual and corporate donations, $15,000 RCPC matchin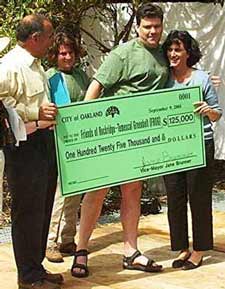 g grants, proceeds from the flea market, sale of FROG tee-shirts, and a restaurant discount dining program. Councilmembers Jane Brunner and Ignacio de la Fuente contributed $225,000 from their PAYGO funds, necessary to completing the Park. Finally, California and City Bond Measures helped build the Park we have today.
We appreciate everyone's support and extend a special thanks to the following community members who generously gave at least $100. This list includes donors recorded through July 2006. Names of donors giving $250 or more will appear on our main park plaque which is to be installed as part of Phase II development of the Greenbelt.
Public Funders
Counilmember Jane Brunner Paygo Fund
Councilmember Ignacio de la Fuente Paygo Fund
State Califormia Park Bond Proposition 12
City of Oakland Measure DD, Creek Restoration Fund
City of Oakland Measure I
City of Oakland Public Art Program
Community Donors
$15,000 or more 
Dreyer's Foundation
Rockridge Community Planning Council
$10,000 – $14,999
Madelyn  & Benjamin
$7,500 – $9,999 
$5,000 – $7,499
Friends of Oakland Parks & Recreation
Claire Isaacs Wahrhaftig
Rockridge Market Hall and Wilson Associates
Theresa Nelson, Bernard Smits & Madeleine S.T.S. Nelson
Civiq
$2,500 – $4,999
Bank of America Foundation
Home Depot
The Hull Family Foundation
Gregory Klein, Patricia Prochaska, Laurent
David & Nora Mitchell, Cecil Gomez Memorial Fund
Zoë Patterson Benjamin
The Vetters
$1,500 – $2,499 
Bay Area Rapid Transit (BART)
Kyle Faulkner and Eileen Fitz-Faulkner
Mr. Elliott and Karen Ng, and Anonymous, in memory of Alaide Pieri
Port of Oakland
Reed Smith LLP (fomerly Crosby, Heafey, Roach & May)
Rockridge Kids
Anonymous, in Memory of Alaide Pieri
$1,000 – $1,499 
Nishan Shepard and Family
Birkenstock Connection
Children's Hospital Oakland
Jennifer Cooper
Leah and Isaac Douglas
First Church of Religious Science
Michael, Sally and Eleanor Fitzhugh, and Kochis Fitz, in memory of our
nephew, Henry Gorman Fitzhugh
Jacqueline Hoeppner-Freitas
Jarvis Architects
The Kaplan Family
McDonald-Martenson Family, Mike, Jill, Jenner, and Erin
Pixar Animation Studios
Sarah Rainey
Ragesh Tangri & Daralyn Durie
Holbrook Visser
$500 – $999 
Drs. Ian and Sheree Ahwah and Family
Yeda Altes
In Loving Memory of Janet E. Anderson 1906-2000, A Rockridge Grandma
Joy Artemis bench, by Tim Fairs, Sarah Redman, Amy Ladner, Dale Ganzow, Karen Marquardt, John Corbett
Peter Athanas & Margaret Pinter
Clem, Francoise, and Daniel Bason
The Bond Family
Stephen Borstad & Jeta McKillip
Charles Schwab Corporate Foundation
Jim Clarke & Liz Maxwell
Ken and Sarah Cluff
In Memory of Benjamin A. Cohen, Rest Easy
The Colombo Club
Owen Cooper
Ilana DeBare and Sam Schuchat
Julie Dewey bench, by James & Adele Crawford and Zydeco, Barbara Anderson, George and Sally Kreps, Mary E. MacDonald, Karen Marker, Ross Jackson & Gary Barg
Grace Fisher
John Gargani & Mary Kathryn Lynch
Neil & Denise Jacobson
The Kaplan Family, Dan, Rosemary, David, Lisabeth, Dan and Deborah
Stephanie Lee
In Memory of John Marrinan
Tammy Medress and Neal Fujita
Roger & Monique Mendelson
In Memory of Jessica Mitford
Drs. Sue Lin & Reuben Rivera, Modern Eye Optometry
In Memory of Joanne and Norman Nelson, by Theresa Nelson, Barney Smits, James Nelson, Claudia McQueen, Pamela Cook & Paul Gietzel
The Pitcock Family
Clifford Rechtschaffen and Karen Kramer
Lucy Richardson and Maisy Richardson
Lee-Righter Family
Kate Runyan & Steve Mitchell
Charles Schwab Corporation Foundation, matching gift of Benjamin Douglas
Andrew & Jenifer Schwarz
Andrew Sessler
Gordon Slack and Adriana Taranta
Strahan Insurance Services
Damir Sudar
The Traub-Epstein Family
Glen Tripp and Lauren Dutton
Van-Mulder Sheet Metal, Paul & Marlene Steckel
$250 to $499
Maureen Alano, George and Julia Zolinsky
Employees of Ashby Lumber
The Austin Family
Gene & Amy Baker
Suzanne Baldwin
Ross T. Jackson & Gary K. Barg
Ann Smulka & Robert Blackburn
Peter Weber/Christie Beeman
Ben 'n Nick's
Joel Berger
Dr. Herman & Arnoldine Berlin
The Bluey Family
The Blumberg-Mehlfeld Family
Michael Bogart
Charles Bowes & Susan McCarthy Bowes
Gabrielle and Charlotte Brais
Cathleen Bright, Owen Rogers and Garrett Rogers
Victoria and Jeff Rugato
John Brennan and Stephanie McKown
John and Laura Martel Carlson
In Memory of Fred and Kathleen Cerruti
Mae Chan Frey
Cliff Cline & Julie Hardgrove
Catherine Coates
Marilyn Citron and Kevin Flynn
R.Carter Clements, Julia Pazzi Clements
In Memory of Mille and Anna Costa
Steve Costa and Kate Levinson
Galen Cranz
Danspace, A Ballet School
Benjamin Mark Davis
Bernie Dignan & Family
Ignacio De La Fuente
The Deverell Family
Jack and Luke Ditzler
Ken, Sarah & Elizabeth Donnelly and Catherine Bishop
Gail Durkin
Maison d'Etre
Oliver Edmunds
David Eisenmann
Pete Elman and Lisa Goulder
Dorothy Eng
Karen Engel and Philip Tucher
In memory of Deborah M. Fagliano
The Fairy Godmother
Susan Briggs, Andrew Faust, Willow and Violet Faust
Andrew and Rob Feldman
Howard Ferrier
Kurt Fleischer
Lisa Gansky
Colin Ganter
Global Entertainment
Mr. Bruce Goldberg & Jana Good
The Goldberg-Safir Family
Janet Lind Griffith, Michael Griffith & Elisabeth Griffith
The Gross-Whitaker Family
Bethany Hanson, Jason Hendrix
Liam and Emma Hardison
John Hayes and Robin Levi
Serena Herr
Sheridan Hitchens
Ho/Luce Family
Natalie, Michelle and Patrick Hoge
Jacks-Hopkins Family
Matt Horn
Roger, Lisa, Emily and Madeleine Howland
Glen Jarvis and Mary Ann Wloszek
Jesse, Solei, Naomi and Chad Thompson
KSL Claremont Resort, Inc.
Susan Keefe Kabir
Alex and Matthew Kaplan
Meredith McGovney Kaplan
Erik Larsen & Jannie Wong
Kevin & Meghan Leader
Lee Family
The Lilley/Faurot Family
Teressa Lippert
The Liu/Young Family
Grace Lusby
In Loving Memory of Nick Maniatis 1982-2005
Lorraine Masuoka
Claudia March & Dennis Moscrop
Julia Day Marquez and Saul Marquez
George Mayorga and Jerry Arnell
Micheal McCraig & Kathryn O'Neal
Suan Montauk
The Morrish Family, Todd, Tamara, Maria & Maile
Oakland Magazine
Donald Patterson
Pearl of Siam Restaurant
Leonard R. Perillo Investments
Rainbow School Teachers 2001, Dora, Rita, Mary, Ginni, Rosemary, Maria and Julie
Rockridge Little School
Rotary Club of North Oakland
The Rainbow School
Jim Ryugo & Maya Shiroyama
Max and Jean Sherman
The Silbert family
Anna & Jamie Singh
Judith Stronach & Ray Lifchez
Mark & Susan Stutzman
Templeton Leverette Co.
Peter, Cynthia & Matthew Trueblood
Mike Ubell & Paula Hawthorn
Sydney Johnson and Kyle Verrips
Laurellee & Suzanne Westaway
The Wolf Family
Dana & Kaipo Young
Zachary's Chicago Pizza, Inc.
Zucker Family
IN KIND
Chris French Metal Fabrication
Mark Rogero, Concreteworks Studio
Ian Read, Level 4 Studio
McDonald Construction/Mike McDonald
Michael Lyons
Gene St. Onge Engineering and Nan Kitiyakara
Graphics West
Gail Durkin
Kate Runyan
Community Impact
Safeway
Food Not Bombs
Great Harvest
Mother's Cookies
Semifreddi's Bakery
Peet's Coffee
Starbucks
LaFarine
Noah's Bagels
Rockridge Café
Zachary's Pizza
Pasta Shop
Dreyer's Grand Ice Cream
Enzo's Meat & Poultry
Niman Ranch
Columbo Club
Eddie's Liquors
First Church of Religious Science
Marin Food Bank
ChoiceDeck/Weyerhauser
Golden gate Fields
Grand Lake ACE Hardware
Ashby Lumber
Piedmont Lumber
Moran Supply
Jimmy Pedersen
ACE Ellis Hardware
City of Oakland
Temescal Tool Lending Library
Rebuilding Together
ACME & Sons
Sherwin-Williams
Rockridge United Methodist Church
Crestco Equipment Rental
TMS Royal Wolf Transport
Sheedy Crane and Drayage
Cahill Construction
Bill Milligan Concrete
Red Tractor Café
Spring Friedlander
Claremont Resort & Spa
URS Construction Services
Don & Sheila Cluff
Tony Wilson
Robin & Judith Richardson
Cheryl Crawford
Mark Rogers
Tony Kay
Allied Packing and Supply, Inc.
Ralph Granich
Larry Stone Designs and Illustrations
Fernando Sorto
Mauricio Argueta
THANKS TO THE PLAYGROUND BUILD COORDINATORS
BIG BUILD ORGANIZERS
Steve Costa
Eileen Fitz-Faulkner
Sally Fitzhugh
Theresa Nelson
Ben Bromham
Lisa Kaplan
Gail Durkin
Kate Runyan
Ken Cluff
John White
Jimmy Pedersen
Sarah Lee
Nannette Love
Anne Braghetta
Terry Hayes
Carol McClullen
Sandra Harris
Larry Stone
Jesse Cortes
Glen Tripp
Amy Ramaker
and Lauren Dutton
BIG BUILD 10-DAY CONSTRUCTION CAPTAINS
Kyle Faulkner
Ben Bromham
Alex Rood
Rick Benson
Piet Visser
George Mayorga
Tom Fitz
Ken Cluff
Eric Neville
Steve Mitchell
John White
Barney Smits
Wally McClellan
Tony Kay
Carroll Moore
Glen Tripp
Sue Levy
Tim Huson
Tom Darci
Mike Marinicci
Pat Bracewell
SPECIAL MENTION
Thanks to Theresa Nelson for her undying commitment to the realization of a park in Rockridge. Thanks, as well, to Karen Cheever for her work on the tiles; Stacy Mar for her graphic design of the original FROG logo; Larry Stone for his creation of the "Hop to it" FROG mascot; Chad Thompson for his help organizing the Groundbreaking Celebration; and, Bill Caldwell, along with his recruits, for his generous efforts photo-documenting the entire experience. Special mention, as well, to Tony Freitas, Margaret Pintner, and Susan Montauk for their commitment to the build.