What Flows Beneath Temescal?
Categories: Featured
Ever wonder about the creek that flows through Frog Park? Where does the water come from, has it always been there, how has the community been involved? 
Here's an excerpt from a longer, rich piece in Bay Nature that answers those questions and more as it walks you through the history of Temescal Creek and dips into what could happen to the Creek with new development at the corner of 51st and Telegraph.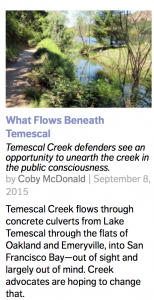 "Later efforts by FoTC, another group called Friends of the Temescal-Rockridge Greenbelt (FROG), and more than 1,300 local volunteers transformed the barren strip into the Rockridge-Temescal Greenbelt, a public park with two playgrounds and a meandering path through native trees. The park also includes a "reconstituted creek," filled by water pumped up from the culvert below. The pathway is lined with artistic and interpretive design elements referencing the history and ecology of the creek.
The faux creek was a compromise for those who fought to save the real Temescal Creek. But as local historian and FoTC member Jeff Norman writes in his book Temescal Legacies, "the small, flowing stream can still evoke a magical sense of the natural forces that surround us. In an intensely urban setting, where 50,000 people now share the Temescal watershed, that kind of experience, however subtle is precious."
For Temescal Creek advocates, a similar sentiment informs their hopes for the site at 51st and Telegraph. Members of FoTC and FROG say the developer, the Nautilus Group, has been receptive to their requests to extend the Rockridge-Temescal Greenbelt through the center of the development and to include information about the creek. Brian Caruso, a project executive with Nautilus, says the current development plans include an extension of the Greenbelt, but there's been no decision about whether or not to include a creek-like water feature. "To the extent that these design features, together with educational components, are feasible, they will be part of the design," he says."
Read the full story in Bay Nature.