Frog Park Thanks You: Successful Earth Day Cleanup
A huge thank you to the approximately 100 people who came out to clean up Little and Big Frog Parks and the Temescal Creek for Earth Day. We were proud to host the cleanup along with the DMV Neighbors Association.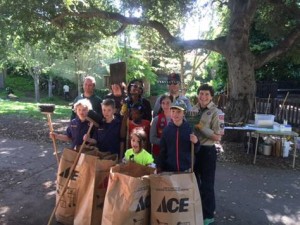 It was a wonderful turnout: families with young children, Cub Scout Pack 274 (pictured at right), Holy Names University students, the Rockridge Little School, and many others. It was truly beautiful to see so many people out keeping our neighborhood park safe and clean. Thanks to Bakesale Betty's for the donation of delicious scones, to the anonymous donors who brought a huge box of pasties and the DMV Neighbors Association for the coffee.
You can see a full album of photos at Facebook.com/frogpark.
Special thanks to Howard Ferrier, FROG's volunteer maintenance coordinator who has done an incredible job for 10 years and will be stepping down after the fall maintenance day.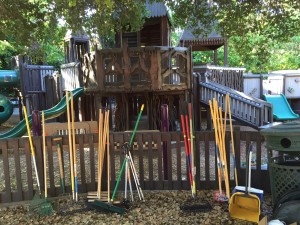 Future Volunteers Needed
With Howard's departure we will need additional volunteers to join the Frog Park committee and help with coordinating maintenance events. We also need help with fundraising, communications and planning efforts — tasks big and small, many of which can be completed from the comfort of your home or for just an hour here or there. Please email chair@frogpark.org to learn more about these important and rewarding opportunities in our community.