Claremont DMV Tree Replanting Community Meeting Nov. 30
Categories: Featured
Invitation from Councilmember Jane Brunner to the community:
Dear Friend,
I'd like to invite you to a community meeting regarding the re-planting and re-landscaping of the creek area by the Department of Motor Vehicle (DMV) parking lot.
Topic:             Claremont DMV Tree Replanting Community Meeting
Date:               Wednesday, November 30th, 2011
Time:               5:30 – 7:00pm
Location:         Rockridge Library Meeting Room, 5366 College Avenue Oakland , CA 94618
This summer the DMV cut down 9 mature trees in the creek area.
This meeting is to get community input on what should be included in the plan to replant and re-landscape the area. Representatives from the DMV, the City, and the FROG park community will be present.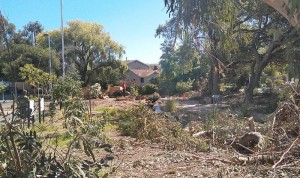 If you are not able to attend – you may also participate in this online survey developed by community members: http://www.surveymonkey.com/s/JW996C3
The survey will close at 8pm on Sunday, November 27th.
Yours,
Jane