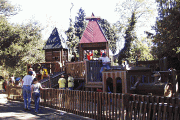 Posted on 02. Apr, 2013 by admin in About
The Rockridge-Temescal Greenbelt was created in 2001, culminating years of community effort. More than 1,600 volunteer members of the Rockridge-Temescal Community planned and physically built the structures. FROG Park has since become a central community feature.
Hardy and Redondo playgrounds are focal points for children and families. Walkers stroll the connecting greenbelt path, which is fully accessible for the disabled.
Park features:
Play structures and sand boxes at Hardy & Redondo parks (see map)
Swings, tire and individual
Picnic areas, both seating areas and grass
ADA accessible play elements
Fence and gate along major streets
Faux Temescal Creek May-October for water play