Posted on 02. Apr, 2013 by admin.
The Rockridge-Temescal Greenbelt was created in 2001, culminating years of community effort. FROG Park has since become a central community feature. Hardy and Redondo playgrounds are focal points for children and walkers stroll the connecting greenbelt path, which is fully accessible for the disabled.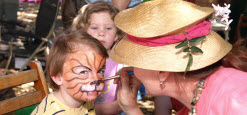 Posted on 05. Apr, 2014 by admin.
When: Saturday, April 26, 9 a.m.-12 noon (Family Fest 12-2 p.m.)
Where: Big Frog (Hardy Circle near Miles) or Greenbelt (Redondo Avenue at Cavour)
Who: Community members and kids of all ages.
Celebrate Earth Day at Frog Park and the Greenbelt, a city of Oakland featured volunteer site sponsored by FROG and the DMV Neighbors Association. Come to a family-friendly cleanup and stay for a special FROG Family Fest with great kid activities.

Posted on 05. Apr, 2014 by admin.
Over the next six months, Friends of the Rockridge-Temescal Greenbelt (FROG) will be raising the final $50,000 needed to fund the last set of play structures planned for Frog Park and playground. The total raised to date is over $11,000.
As a show of enthusiastic support for the drive, RCPC has committed a total of $10,000 [...]

Posted on 04. Dec, 2013 by admin.
Greenbelt volunteers needed! December's "First Saturday" Rockridge-Temescal greenbelt cleanup will focus on clearing the mess left by the recent high winds. Monthly workdays are sponsored by FROG and Oakland Technical High School's BuildOn program. Come sign in starting at 9 am at Hardy Park (Big Frog).

Posted on 30. Nov, 2013 by admin.
With your help, FROG Park will be home to new toddler swings, regular swings, a merry-go-round climber, spinners  and more (highest rated features for those who took the survey). After extensive public comment this fall and meetings with the City of Oakland, we're moving ahead with new swings and play features in 2014. But we [...]

Posted on 08. Oct, 2013 by admin.
FROG (Friends of the Rockridge-Temescal Greenbelt) is working on your number one request: more swings in Frog Park. Please take a few moments to help us select a final swing and play area option.
Posted on 14. Sep, 2013 by admin.
Final phases of the DMV restoration will begin in late September when the DMV continues its promised restoration, including planting 13 new trees and shrubs along the DMV Creekside. All that remains is to install one new picnic table next to the existing one on a date to be determined.
More than two years ago, the [...]

Posted on 13. Sep, 2013 by admin.
September marks the one year anniversary of the "First Saturday" monthly Frog Park cleanups. Based on its success, FROG plans to continue the program for another year.
Highlights include: adding sand to both sandboxes, distributing wood chips throughout the Big Frog park area for a safer play time, surveying park users, beginning the replanting of our [...]
Posted on 15. Jul, 2013 by admin.
FROG is planning to implement the highest priorities based on the FROG community priorities survey results and on ongoing initiatives
FROG seeks volunteers with the following specific skills: project management with public agencies; community outreach; marketing; communication and presentation development; website editors and developers; and working with the community on art initiatives. E-mail info@frogpark.org to learn [...]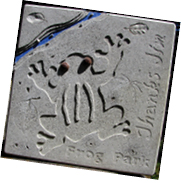 Posted on 13. Jul, 2013 by admin.
Jim Ryugo retired at the end of June as Building Services Manager after 33 years of service in the city' Public Works Agency. He began working with Rockridge neighbors on a park when he was a manager responsible for park maintenance and trees in about half the city. He was instrumental in renovating Colby Park [...]
Posted on 12. Jul, 2013 by admin.
Delightful new neighbors and dear old friends converged on the Rockridge Temescal greenbelt and Frog Park for the annual June Interim Cleanup Party, co-sponsored by the DMV Neighbors Association and FROG.
After a wake-up cup of coffee and some bagels and coffee cake, volunteers shifted clean sand into the Little Frog Park sandbox, spread out cushioning [...]